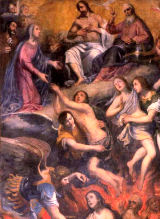 Chuck White recently did a
post
about Kiko's teaching on Purgatory, or his lack of it. Kiko teaches that at death, believers simply fall asleep and awake in the resurrection. (That's a very Seventh Day Adventist teaching by the way.)
Kiko makes no allowance for Purgatory, which is a fundamental dogma of the Catholic faith, meaning it must be believed or one is not Catholic.
In the top right corner of the home page is an icon. About the icon, Pius says the following:
"Painted by Giampiero Curi from Fermo (Italy), seminarian at the Redemptoris Mater Seminary in London, UK. Died very suddenly at the age of 28, just after finishing his theology studies with honors. He is now happy in the Lord with the angels."
How sad for Giampiero. Because of the teachings of Kiko and Pius he may be languishing in Purgatory with no one to pray for him.