PNC Monday, 22 February 2016
Catholics Protest During Archdiocese Sweetheart's Ball
The Concerned Catholics of Guam and other members of the catholic church reiterated their concerns regarding Archbishop Anthony Apuron's actions in recent years.
Read more at PNC and see the video.
Special Kudos to Mary Lou Martinez and Teresa Tayama! You go, ladies!
P.S. There is only one thing that is not true about the news story. The "Sweetheart's Ball" is NOT an annual event to celebrate "the sacrament of Holy Matrimony." Apuron and his cronies have bastardized what SHOULD be a celebration of Holy Matrimony to fund their presbyter playpen.
P.P.S. There are some who think that they can give specifically to the fake JP2 seminary in order to keep their money from going to the neo-seminary. You are wrong.
And from KUAM:
Catholic group protests outside Archdiocese Sweethearts Ball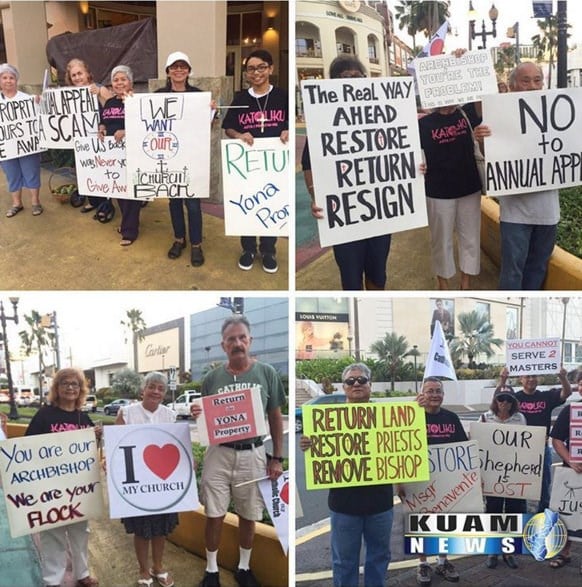 Posted: Feb 22, 2016 2:38 PM
It was a party inside, but a protest outside. If you were in Tumon Sunday afternoon, you may have seen dozens of members of the Laity Forward Movement in front of Outrigger Hotel where they say the Archdiocese Sweethearts Ball was being held.
Continued on KUAM
PICTURES SUBMITTED BY THE LAITY FORWARD MOVEMENT
Join these brave elders of our Catholic community who have the guts to stand up for truth. Contacts: Priscilla at 969-7842, Lou Klitzkie at 653-6605, Mae Ada at 734-7777. Teri Untalan at 727-3577.