By Tim Rohr
I'm spending some time in the Los Angeles area otherwise I probably wouldn't have known about this.
Well that's not quite true. I am not a baseball fan and have never been. And for some reason - maybe it's because I grew up in LA - I dislike any sports team with the "LA" in front of the rest of its name. So I wouldn't have been paying attention anyway.
But since I'm here, I'm hearing about it.
So there's this thing happening. The LA Dodgers are honoring a thing called "The Sisters of Perpetual Indulgence." The FRONT PAGE article (linked here and below) describes the group as follows:
The "sisters" are a group of homosexual and transgender men who dress as nuns and wear heavy clown makeup in a campy, burlesque version of pseudo-Catholic blackface.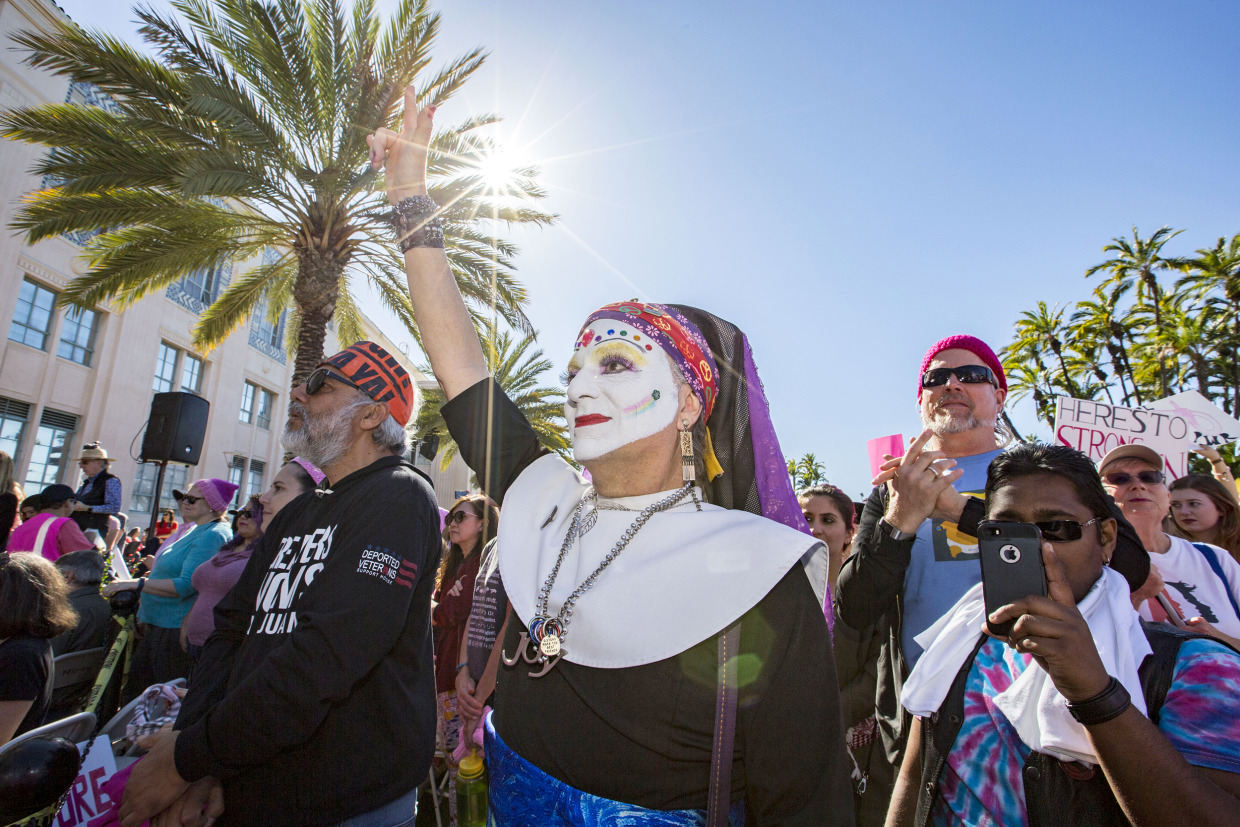 What's absolutely funny (to me) is that while "homosexual and transgender men...dress as nuns" in their comical crusade to mock and ridicule Catholic nuns (and by extension, all of Catholicism), most Catholic nuns haven't been dressing like the "homosexual and transgender men" are dressing (traditional habits) since, well, probably since Julie Andrews in the "Sound of Music."
In fact, the article states that the "homosexual and transgender men" got their traditional nun gear "in 1979 after receiving surplus habits from a production of The Sound of Music."
So, yah. It's a real LOL.
Nuns, actual Catholic nuns, for the most part, haven't been suffering the donning of traditional habits since the post-Vatican II "60's."
And now we finally have a return to the traditional habit.
But Alas! said "habits" now cover the bodies of "homosexual and transgender men," and, oh yah, these nun-clad men are scheduled to be honored at Dodger Stadium in a predominantly Catholic city.
You can't make this stuff up.
As an aside, and before I go on, I was a 6th grader in a Catholic school (in this same city) around the time of the conclusion of Vatican II (1965). The effect was shocking and immediate. The nuns really did throw off their habits (at least at my school), and also changed their names - from the names of saints (such as Sister Mary Joseph) to their own names like "Sister Rosemary" or just "Rosemary." Ten years ago I wrote about that experience in a column for the Umatuna (the newspaper for the Archdiocese of Agana): CATHOLIC SCHOOL: AN ALTERNATIVE MEMORY
Meanwhile, back to the LA situation.
FRONT PAGE (which I don't believe is a particularly Catholic publication) published an article today (June 6, 2023) titled:
An Archbishop's Moment of Truth - Los Angeles' Gomez reaches a moral crossroads regarding LGBTQ activism.
Per the article, apparently the "Archdiocese of Los Angeles" published a statement "criticizing the Dodgers' decision...(to honor this Catholic-bashing group)."
However, as Front Page goes on to say:
Gomez' name is missing.
So if Gomez' name is missing, just who is "the Archdiocese of Los Angeles?"
Umm, it's a nothing. The Archdiocese is a "thing." Things don't make statements. People do. As (Guam) Tall Tales Talk Show host, Bob Klitzkie, continually reminds us, it's NOT the "department," it's the "director."
GOMEZ' CHICKENS
In 2008 or so, then-President Obama's pastor, (Rev. Jeremiah Wright) in referring to the events of 9/11, infamously said "America's chicken's have come home to roost." Wright was employing an old saying (however wrongly) which means that what one does wrongly in the past will eventually "come home to roost," i.e will come back to you.
As far as this little layman is concerned (me), Gomez' "chickens have come home to roost." And while Gomez wasn't around then, I was.
In the 1970's the Los Angeles archdiocese was so steeped in its self-celebration of sexual liberation, especially "homosex," that its seminary, St. John's Camarillo, was publicly snickered at as "The Pink Palace" - it was almost a given than a dude had to be gay to be admitted. (See: "Goodbye, Good Men" by Michael Rose)
I was there at the time (not the seminary but in the archdiocese). And I would have been a "victim" if I hadn't run.
Meanwhile, fifty years later, and after billions in lawsuits, Gomez took the job. So it's all on you, Archbishop Gomez. And just so you know, I won't be suing.
Take care of the others. Start with the Dodgers.
+++++
For the reader's convenience, the full FRONT PAGE article is copied here:
At certain times in life, an individual must decide whether to put resolute action behind rhetorical boilerplate. For Jose Gomez, that time is now.

Gomez, the Catholic archbishop of Los Angeles, has an unmatched opportunity to repel the growing influence of "woke" madness in his community. Whether he will take that opportunity, however, remains an open question.

The opportunity in question is the Los Angeles Dodgers' decision to re-invite the Sisters of Perpetual Indulgence to the team's Pride Night on June 16. The "sisters" are a group of homosexual and transgender men who dress as nuns and wear heavy clown makeup in a campy, burlesque version of pseudo-Catholic blackface.

The "sisters" began as a gay comedy troupe in San Francisco in 1979 after receiving surplus habits from a production of The Sound of Music. Since then, the "order" has founded 53 "houses" and "missions" in 28 states and the District of Columbia, as well as 26 "houses" and "missions" in eight countries overseas.

The troupe made itself known for ridiculing Catholic faith and practice with such stunts as a "Foxy Mary" beauty contest, pole dancing on a cross and such stage names as Sister Marqesa de Sade and Sister Homocycle Motor Sexual.

Catholic motifs are pivotal to the act.

"We realized that the nun's habit contains a lot of social stigmas all in one: gender issues, gender identity issues and religious bigotry issues," said Sister Vicious Power Hungry Bitch. "So the habit is like a lightning bolt."

But since its founding, the group has adopted social activism in the name of community outreach. As such, the Sisters for Perpetual Indulgence has become a subtle yet powerful weapon in the "woke" arsenal.

The troupe raises money for grants ranging from $250 to $1,000. The groups it funds include:

— Queer Rebel Productions, a group for LGBTQ artists "whose works challenge white supremacy, racism, trans-phobia, homophobia, and classism," stated the troupe's website.

— Queer Expression Oakland, described as a "grassroots, volunteer and youth-led community organization facilitating inclusive creative movement and art-making spaces for queer and trans youth (ages 5-25) in the Bay Area."

— Valid USA, "which provides education, gender affirming clothing and resources to transgender youth and young adults." The troupe's grant paid for "chest binders and clothing for California Students," the website said.

As part of its quest to "promulgate universal joy and expiate stigmatic guilt," the troupe also links to various resources, including those offering "trans-affirming care." One is Dimensions Clinic, which offers "free or low-cost healthcare for youth, ages 12 to 25, with services tailored specifically to serve transgender and gender non-binary young people."

On June 24, the "sisters' " San Francisco "house" also will join seven other sponsors to support the "Trans-tastic Soccer Games," designed to "celebrate queer, trans and non-binary power through sports," to start the city's Pride Weekend. The schedule includes activities not only for adults but also for children and teens between 8 and 16.

In other words, the Sisters for Perpetual Indulgence ranks in the vanguard of the LGBTQ activists' quest to groom children by confusing them about their sexuality. A former activist told Epoch Times on May 26 that she left the movement because of that quest.

It is beyond significant that the propaganda video that included the interview with Sister Vicious Power Hungry Bitch takes place during an Easter egg hunt for children.

The archdiocese's statement criticizing the Dodgers' decision emphasized that ridicule, especially of legitimate nuns who dedicate themselves to community service. It called on "all Catholics and people of goodwill to stand against bigotry and hate in any form and to stand for respect for one another and for the religious beliefs of our communities of faith," it said.

However, Gomez's name is missing.

Gomez must do more than condemn the contempt for Catholic faith and practice. He must do more than sign a paper. He must draw attention to the troupe's attempt to groom children and its advocacy of sex-change surgery. On March 20, the United States Council of Catholic Bishops condemned such surgeries and the use of puberty blockers, especially for minors, as FrontPage Magazine reported.

Gomez served as the USCCB's president until his three-year term expired in November.

The archbishop also must assert that, for all intents and purposes, two civic institutions have declared Catholics to be non-persons.

One of those is the Dodgers. The other is the Los Angeles Times, which ran an article focusing on the troupe's community work while ignoring its anti-Catholic performance art. L.Z. Granderson, one of the Times' most "woke" columnists, went so far as to call any legitimate criticism "homophobic," ignoring Catholic concerns in the process.

But Gomez can do even more. He must encourage and organize a boycott of both the Dodgers and the Times. Fans should stop buying tickets and souvenirs. Season-ticket holders and subscribers to the team's cable channel must cancel their packages. Newspaper subscribers should do likewise. Picketing or even staging a sit-in at Dodger Stadium on Pride Night certainly would attract attention.

As Bud Light and Target can attest, boycotts can be devastating.

Since promoting transgender influencer Dylan Mulvaney, Bud Light sales fell by $110 million off last year's pace as of May 13. In addition, consumers have stopped buying Anheuser-Busch's other brands. Meanwhile, Target's stock lost $9 billion in value one week after introducing LGBTQ-themed clothing for children.

But does Gomez have the imagination and the courage to take such a step? Catholics in Los Angeles await his answer — and he has very little time to provide one.