On July 29, 2014, Archbishop Apuron - even though he had never attempted to work out the issues with Msgr. James - released a statement to the press about his removal of Msgr. James as rector of the Cathedral, as director of Catholic Cemeteries, and as director of the Archdiocesan Development Group and the dissolution of that entity.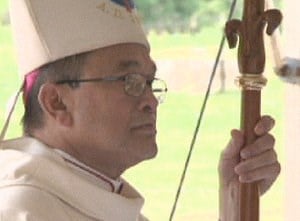 Going public about an internal problem between a priest and a bishop is unprecedented. It was one of the most grotesque acts ever by a bishop and it brought immense shame to the Catholics of our island and indeed the Church as a whole.
But bringing shame and scandal to the Catholic Church was only part of what Apuron did. He not only publicly trashed Msgr. James, he falsely used other priests to do it.
In order to appear like he was not acting alone, he stated in his public statement that he had consulted with the Presbyteral Council and they had "expressed their support":
See full document here:
https://www.scribd.com/doc/237205320/Benavente-Apuron-Statement-to-the-Press-July-29-2104
On August 4, 2014, five members of the Presbyteral Council, Fathers Tom McGrath, Jeff San Nicolas, Mike Crisostomo, Patrick Castro and Gus Gumataotao, wrote Apuron stating that they were NOT CONSULTED ON THE MATTER:
See full document here:
https://www.scribd.com/doc/294592325/Benavente-Presbyteral-Council-to-Apuron-Aug-2014
The five members went on to request that Apuron clarify his statement. Of course since Apuron lied there was nothing to clarify, so as usual he said nothing until finally the Media got involved and something had to be said. So then, again "as usual", Adrian the Pathetic did Apuron's lying for him:
See full story at:
Of course there are several Cristobal lies here. Adrian said Apuron "still has every intention of meeting" with the priests who signed the letter. He never met with them and there was never any intent to meet with them. Cristobal said that Apuron explained clearly to them that he was "going to take action." Obviously five priests to one say that Apuron did not explain clearly. And Cristobal's words "take action," is a way for him to avoid mentioning Msgr. James because clearly the five priests from the Council had NO idea that that was what he was going to do.
The sheer evil of this constant LYING is beyond imagination. It goes on and on and on. And while the LIES come out of Apuron's mouth, they are put there, as demonstrated here, by Cristobal. And behind Cristobal is the Kiko-Gennarini-Pius axis of Evil - amazingly encouraged and sponsored by an even greater evil in our church hierarchy.
Now, let me speak very clearly and at the risk of offending some.
There has been a lot of news lately about a recent production of the documentary I AM CHAMORRO. It rightly documents and celebrates the beauty and resilience of the Chamorro people, religion and culture. I can't help but note that this documentary has come about amidst the backdrop of the most shameful period in Catholic Chamorro history - a period that is seeing its own bishop turn on his people.
If there ever was a time to live up to the words I AM CHAMORRO. If there ever was a time to live up to the words I AM CATHOLIC. If there ever was a time to stand up to the most insidious band of liars and marauders. If there ever was time to fight for your island, your church, and your children, IT IS NOW!
Jesus told us we would find the abomination in the temple and so we have. Yes, pray. But do not use "prayer" to cover for your cowardice. Jesus prayed, AND THEN HE DID.
While the lying, cheating, and stealing of Apuron, Cristobal, and David are heinous and destructive, the only thing more heinous and destructive are people who are willing to let them lie, cheat, and steal.
Speak up. Stand up. These three liars and thieves are betting that you won't.