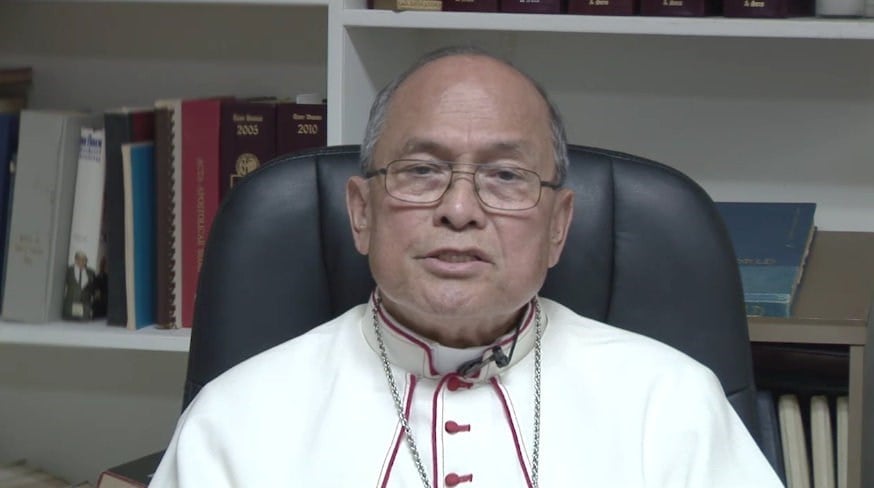 On Friday, Bob Klitzkie was on the phone with Patti Arroyo (K57) attempting to explain the very real challenges we still face, when a woman called up and
lectured
Bob on why he should just shut up and be "joyful." She might as well have been Anthony S. Apuron calling because I'm sure he'd like nothing more.
From the beginning, our only weapon against this all powerful enemy has been public outrage. And we would be stupid to stop now. For what have we accomplished?
Anthony S. Apuron is still Archbishop of Agana and according to his Vatican video, not only is he still in charge, the apostolic administrator is only here at his request, mere hired help.
Since Hon has never refuted Apuron's message we are left with no other option than to believe it to be true.
Deacon For Sure For Sure is still the SARC.
Fr. Pat Castro's appointment as some sort of liaison means nothing, especially since he is not on Guam during this most critical time.
Fr. Paul and Msgr. James are still outcasts. And even if Hon won't restore them to their positions he has complete authority to publicly condemn how they were treated. He hasn't.
The decree against the CCOG was rescinded but only after Hon allowed it to go into effect and without a word of apology to the CCOG for Apuron's violation of our rights as Catholics.
The gag order on Deacon Martinez was rescinded but not a word of condemnation or apology about Apuron's attempt to shut up the one member of the clergy willing to speak up against the policy which permitted Apuron to hide.
The Yona property remains completely in the hands of the Gennarini's.
RMS is still in full swing.
This past Friday was the first time I know of that Hon met with any of the disaffected laity and there might as well have been no meeting at all.
Apuron's four sex abuse victims, even if they are "alleged" have NOT been contacted by Hon or anyone else.
Hon's failure to condemn Apuron's publicly calling them LIARS, and even his own intimation that the "alleged" victims accounts may not be true, now makes Apuron's slander and libel, Hon's.
The neocats still continue with their illicit liturgy.
The Cathedral is still firmly in neo-control.
Apuron is free to roam the world and plans to meet up with the neo-cats at World Youth Day.
David and Adrian might have been moved but only temporarily. Yesterday Adrian sent out an email letting us all know that Fr. Lito is only the chancellor "

for the time being,

" meaning that soon all will be restored to how it was before with Apuron's triumphal return:
On Fri, Jul 1, 2016 at 3:06 PM, Adrian Cristobal
Hello:
Effective 30 June 2016, Rev. Fr. Jose Antonio Abad was appointed as Chancellor of the Archdiocese.
For the time being,
and for matters related to the Archdiocese of Agana and the Chancery Office, kindly email Fr. Abad at
<blsdiego@yahoo.com>.
Hon has been here nearly a month and has spent much of that time interviewing the clergy and religious, but what for? With Apuron's return imminent and David and Adrian's titles removed only "for the time being," which member of the clergy or religious is going to speak up about the real issues? And the same goes for his ad hoc committees. A whole month wasted and the "reign of terror" still reigns.
Be Joyful? Not only NO, but HELL NO!
If the Apostolic Administrator is sincere about "unity," here are SIX things that he can do which will address the essential causes of disunity, SIX things which he has complete authority to do and will not take any time or research since he already knows the facts about each of these:
Publicly repudiate Apuron's Vatican video message.
Publicly repudiate the way Fr. Paul and Msgr. James were treated.
Publicly acknowledge that Apuron had no authority to transfer the Yona property to RMS.
Publicly condemn clergy sex abuse and show that he is serious by placing his own ads (if only in the Umatuna) calling for other victims to come forward - and assuring them they will not be called liars (at least!).
Publicly extend a hand to the four victims (even if they are only "alleged") who have come forward and offer the Church's help.
Publicly apologize for Apuron's mistreatment of the lay Catholic faithful by threatening all of us with his decree against the CCOG and anyone having anything to do with their cause.
Until Hon at least begins to show some care for JUSTICE then there will be NO peace, no unity, and his prayer services will remain not only a waste of time but an affront to the aggrieved and a spiritual fraud.