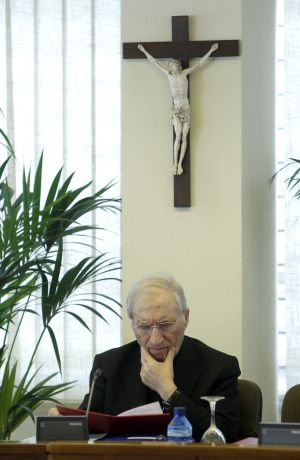 Cardinal Antonio María Rouco, former archbishop of Madrid, was Kiko's first "purchase".
Former archbishop sparks outrage over "scandalous" retirement plans
Here's an excerpt from a thorough
article
about how Kiko bought Rouco...and Apuron...and...
And above all, Kiko will provide Rouco with political influence. At a meeting in Rome in October 2007, during the beatification of 468 Religious assassinated in the Civil War, Arguello will propose to the Cardinal organising a great demonstration in Madrid 'in defense of the Christian family'. There are barely three months left before the general elections. The polls predict a technical draw between the PSOE (Socialist Party of Spanish Workers) and the (right wing) Popular Party. Rouco is doubtful. It seems precipitate. Arguello reassures him, 'Don Antonio, I will put 300,000 kikos in Columbus Place'. Rouco agrees. The demonstration takes place on October 30. Various Cardinals and 42 Bishops attend.
(Note: It is important to understand that when reading about Kiko's ideas that his apparent "conservatism" is simply a tool to power. He recognized that beginning with JPII that the popes wanted to restore Europe to its Christian roots, thus he posits himself as the champion of that cause. But when you get to what he really believes, especially about the eucharist, then we see that Kiko is no conservative at all. One look at his Domus Galilee will tell you that.)