Posted by LaPaz, Jungle Watch correspondent from Spain.
While reading last news about Bishop Hon Tai Fai and Redemptoris Mater property, I was remembering times when the Episcopal Conference of Japan asked the Way to stop all "evangelization" there.
All of us know Pope Benedict XVI finally intervened promoting an aproach between both partners and the Way was not "expelled". Despite the actual situation in Japan, which I don't know, I consider quite interesting -as always- to have a look at Kiko's words about those facts.
For Advent and Easter, Kiko uses to visit his personal catechumens and gives them an "announcement", which they will give as well to their dependent communities (through the piramidal structure of catechist teams and parishes). I have found the Advent Announcement of 2010, given in Madrid, and his explanation of the problem in Japan in front of his "very top" followers in terms of internal neocat-hierarchy.
The full Anouncement is too long, Kiko uses to talk for two or three hours. I have only translated the specific fragment where he speaks about Japan and some interesting questions related with Holy See and hierarchy, in neocatechumenal language the part he starts with last "news" not in a objetive way, but in his "inspirational" style. You can imagine in that context he shows himself as he really is...and his words use to be his best telltale.
Hierarchy must have the funny time of reading what Kiko tells and how he reinterpretes facts in his own willing. Many cardinals would feel real shame knowing some things Kiko tells about them when they are not present. I always think it would be very necessary to do that hard work for them: to compile all his announcement along years, translating and publishing them for your eminences. Maybe some things will change about their way of considering that prophet and his Way.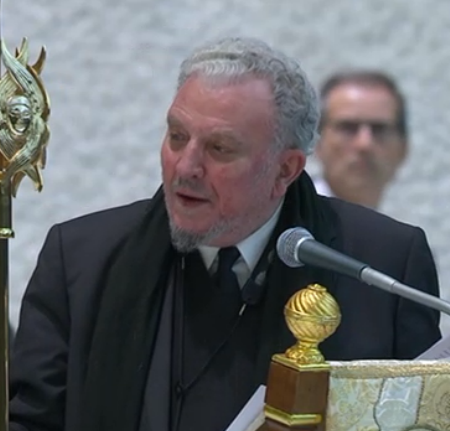 I bring these Kiko's reviews because Guam is a nice stone in his shoe. I think it is very important to analize his mind here to draw a picture to see Japan and Guam's potential similarities and differences. To stop Kiko and his neocatechumenal machine is essential being able to anticipate, since the moment he twists facts and meanings in his convenience.
I hope it will help. Consider it was the end of 2010 and Benedict XVI was the Pope, just a few before the Neocatechumenal Way's aproval (?). In blue is the original in Spanish, translation is in black. I know it is difficult to go jumping through different coloured paragraphs, but it was a bit easier for me to do the work. I ask you for your patience, thank you very much!
Os traigo un saludo de Carmen que está enferma. Mañana la operan. Sabéis que se cayó primero en Seúl, se rompió varias costillas, estuvo muy mal. Cuando vino a Madrid se cayó también aquí y se rompió una vértebra que la presiona el nervio ciático y está con muchos dolores. Van a intentar mañana hacerle una operación, así que tengo que volver cuanto antes a Porto San Giorgio. Mario se ha quedado con ella. Tenemos que rezar por ella para que todo salga bien. Pobrecilla, está en la cruz con dolores terribles. A este encuentro me acompaña Javier Sotil.
Announcement of Advent
In Madrid
November 30, 2010
I bring you greetings from Carmen, who is ill. Tomorrow operate. You know that first felt in Seoul, broke several ribs, was very bad. When she came to Madrid she was also down here and a vertebra that presses the sciatic nerve broke and she is with many sorrows. They will try to have an operation tomorrow, so I have to get right back to Porto San Giorgio. Mario has stayed with her. We must pray for her so that everything goes well. Poor woman, she is on the cross with terrible pain. This meeting is with me Javier Sotil.
Bien, hermanos, tenemos grandes noticias y acontecimientos. En el mes de junio, la Conferencia Episcopal del Japón nos envió una carta en la que nos pedía cerrar el Camino Neocatecumenal en todas las parroquias de Japón por cinco años. Dicen que en lugar de ir a los alejados nos quedamos con las personas de la parroquia, que son muy pocos, creando confusión, división.
Well, brothers, we have great news and events. In June, the Episcopal Conference of Japan sent us a letter asking us to close the Neocatechumenal in all parishes in Japan for five years. They say that -instead of going (to look for the) remoted- we stay with people of the parish, which are very few, creating confusion, division.
En realidad no es así. El Camino, como sabéis, es un camino sobre todo para los alejados, y la prueba es que en Japón hay más de 200 hermanos japoneses que han sido bautizados en el Camino, y actualmente 21 hermanos japoneses se están preparando para recibir el Bautismo. Hemos consultado a los hermanos del Japón para saber cuántos eran alejados de la Iglesia y son alrededor de 300 hermanos.
Really it is not so. The Way, as you know, is a way especially for remote, and the proof is that there are more than 200 Japanese brothers who have been baptized in the Way, and currently 21 Japanese brothers are preparing to receive Baptism in Japan. We have consulted the brothers of Japan to know how many were far from the Church and are about 300 brothers.
Dicen también que en el Camino, en lugar de obedecer a los Obispos, nos obedecen a nosotros. ¿Pero en qué cosa no hemos obedecido a los Obispos? Cuando un Obispo ha prohibido la celebración de la Eucaristía en la comunidad, por ejemplo, no la hemos celebrado. Cuando nos pidieron que fuésemos los domingos por la mañana a Misa a la parroquia, lo hicimos, etc.
They also say that on the Way, rather than obey the bishops, they obey us. But, what thing we have not obeyed the bishops? When a bishop has banned the celebration of the Eucharist in the community, for example, we have not celebrated it. When they asked us to be on Sunday morning Mass at the parish, we did it, etc.
El problema es que los Obispos que acogieron el Camino, que nos han ayudado tantísimo, han muerto o se han jubilado, y los Obispos que les han sucedido llegan con muchos prejuicios y ha sido casi imposible explicarles lo que es el Camino. No conocen el Camino y no aceptan recibir a los catequistas que podrían explicarles qué es el Camino.
The problem is that the bishops who welcomed the Way, who have helped us so much, have died or retired, and the bishops who have succeeded them come with many prejudices and has been almost impossible to explain what the Path. They do not know the Way and do not accept receive the catechists who could explain what is the Way.
Después de recibir esta carta de la Conferencia Episcopal de Japón, en el mes de junio pasado, firmada por todos los obispos del Japón, en la que nos pedían que cerrásemos el Camino Neocatecumenal en todas las parroquias de Japón por cinco años, consultamos a la Santa Sede, y la Santa Sede nos dijo que no tuviéramos en cuenta esa carta, porque sobre una realidad de Derecho Pontificio, digamos así, como es el Camino Neocatecumenal, una Conferencia Episcopal no puede tomar una decisión así sin el consentimiento de la Santa Sede.
After receiving this letter from the Episcopal Conference of Japan in the last month of June, signed by all the bishops of Japan, in which they asked us for closing the Neocatechumenal Way in all parishes in Japan for five years, we consulted the Holy See and the Holy See told us not to consider that letter, because over a reality of Pontifical Law, say so, as is the Neocatechumenal Way, an Episcopal Conference can not make such a decision without the consent of the Holy See.
Como sabéis, en efecto, el Camino Neocatecumenal ha sido instituido por la Santa Sede como una "fundación de bienes espirituales con personalidad jurídica pública". Uno de estos bienes es el Neocatecumenado, con sus etapas —fase kerigmática, primer escrutinio, segundo escrutinio, etc., todo el itinerario neocatecumenal—. Si un obispo o una Conferencia Episcopal tiene algún problema con este "bien" debe dialogar con nosotros, los responsables del Camino a nivel mundial, porque el Papa nos ha hecho garantes de la autenticidad de la actuación del Camino en la diócesis. La Iglesia reconoce que el Neocatecumenado es un bien espiritual enorme para toda la Iglesia. Es la primera vez que la Iglesia establece una Fundación de Bienes Espirituales. El Camino es la primera; todas las otras Fundaciones son conjuntos de bienes materiales.
As you know, in fact,
the Neocatechumenal Way has been instituted by the Holy See as a "foundation of spiritual goods with public legal personality"
. One of these assets is the Neocatechumenate, with its kerygmatic -phase stages, first scrutiny, a second scrutiny, etc., all the Neocatechumenal itinerary. If a bishop or Episcopal Conference have a problem with this "good" must dialogue with us, the leaders of the Way worldwide, because the Pope has made us guarantors of the authenticity of the performance of the Way in the diocese. The Church recognizes that the Neocatechumenate is a huge spiritual well for the whole Church.
It is the first time that the Church establishes a Foundation of Spiritual Goods. The Way is the first; all other foundations are sets of material goods.
En el Estatuto del Camino se dice que está constituido por cuatro Bienes Espirituales:
La educación permanente en la fe;

El catecumenado para los paganos (es decir, que podemos aplicar el Ordo initiationis christianae adultorum, OICA, dentro del Camino mismo);

La organización a nivel mundial de la catequesis: lo que hacemos cuando nos reunimos todos los catequistas en Porto S. Giorgio y vemos cómo va la evangelización y luego os volvemos a enviar, en un movimiento de sístole y diástole, como un corazón.
Nosotros tenemos este estilo, no utilizamos revistas u otras cosas sino solo convivencias, convivencias, convivencias, reunirnos; y gracias a este corazón que tenemos con la sístole y diástole, todos los itinerantes —con los que nos reunimos cuatro veces al año— tienen fuerza y una perfecta comunión entre ellos y con todos los catequistas a nivel mundial. Son 120 naciones, una realidad enorme.
The Statute of the road is said to be composed of four Real Spiritual:
2. Continuing education in faith;
3. The catechumenate for pagans (ie, we can apply the Ordo Christian Initiation of Adults, OICA, within the same path);
4. The worldwide organization of catechesis: what we do when we meet all catechists in Porto S. Giorgio and see how it goes evangelization and then we resend them, in a movement of systole and diastole, like a heart.
We have this style, we do not use magazines or other things but only convivences, retreats, retreats, stay together; and thanks to this heart we have with the systole and diastole, all itinerants-with which we meet four times per year- have strength and perfect communion among themselves and with all catechists worldwide. 120 nations are a huge reality.
La Santa Sede nos dijo que enviaría una nota al Nuncio del Japón con indicaciones precisas. Nosotros enviamos en respuesta a la Conferencia Episcopal de Japón una carta brevísima, tal y como nos dijo la Santa Sede. Decíamos que, dado que el Camino ha sido instituido y aprobado por la Santa Sede, sentíamos el deber de consultar a instancias superiores y que esperábamos que, antes de tomar una decisión tan fuerte como la de cerrar el Camino en todas las parroquias, sería importante poder dialogar, poderse reconciliar, ver qué habíamos hecho mal, tratar de aclarar las cosas, porque pensábamos que aquellas acusaciones no eran ciertas.
The Holy See said that they would send a note to the Nuncio of Japan with accurate directions. We sent in response to the Episcopal Conference of Japan a very brief letter, as told us the Holy See. We said that since the Way has been established and approved by the Holy See, we felt the duty to consult higher authorities and we expected that before taking such strong decision as closing the Way in all parishes, it would be important to dialogue, be able to reconcile, to see what we had done wrong, try to clarify things, because we thought that those allegations were not true.
Habíamos pedido hablar con la Conferencia Episcopal de Japón en el mes de febrero y nos lo negaron. Incluso tratando de poder dialogar, en el mes de septiembre pasado fuimos a Seúl donde se celebraba un congreso del Pontificio Consejo para los Laicos con varios obispos de Asia sobre las Nuevas Realidades Eclesiales, y allí nos encontramos con el Presidente de la Conferencia Episcopal del Japón, Monseñor Ikenaga.
We had asked to speak with the Episcopal Conference of Japan in February and they refused. We even trying to dialogue, in last September we went to Seoul, where there was a Congress of the Pontifical Council for the Laity with several bishops of Asia on New Ecclesial Realities, and there we met with the President of the Episcopal Conference of Japan Monsignor Ikenaga.
Los Obispos de Japón nos han escrito de nuevo el mes pasado, confirmando su decisión de cerrar el Camino por cinco años y estableciendo una fecha que era el domingo pasado. Antes del 28 de noviembre -primer domingo de Adviento- cada Obispo tenía que hacer un documento prohibiendo el Camino, y este documento debía ser leído en cada diócesis a todos los curas.
Japanese Bishops have written to us again last month, confirming their decision to close the Way for five years and setting a date which was last Sunday. Before November 28 -first Sunday of Advent each bishop had to make a document prohibiting the Way, and this document should be read in every diocese for all priests.
Esta situación supone para nosotros un gran sufrimiento. Hoy os voy a pedir ayuda: detrás de esta imagen de la Virgen del silencio, he puesto una oración que me inspiró S. León Magno:
"Oh Dios, que no permites que las fuerzas del Mal prevalezcan contra tu Iglesia, fundada sobre la roca de Pedro, por intercesión de la Santa y Humilde Virgen María, sostiene al Papa Benedicto XVI y ayuda al 'Camino' en Japón. Amén"
Os quiero regalar esta imagen, pero con la condición de que recéis el rosario todos los días hasta el 13 de diciembre. Solo durante 13 días; trece rosarios por Japón. ¿Y por qué hasta el 13 de diciembre? Ahora os lo explicaré.
This situation poses a great suffering for us. Today I'm going to ask for help: behind the image of the Virgin of silence (sic), I put a prayer which inspired me St. Leo the Great:
"Oh God, do not let the forces of evil prevail against your Church, founded on the rock of Peter, through the intercession of the Holy and humble Virgin Mary, sustain Pope Benedict XVI and help the 'Way' in Japan. Amen"
I want to give you this picture, but with the condition that you have pray the rosary every day until 13 December. Only for 13 days; thirteen rosaries for Japan. And why until December 13? Now I'll explain.
El pasado día 13 de noviembre, el Papa nos recibió en audiencia privada a Carmen, al P. Mario y a mí; fue una audiencia fantástica. Hablamos sobre cuatro puntos:
El primer punto: China. Expliqué al Papa que hemos sentido de Dios suscitar 20.000 sacerdotes para China. Ahora os digo qué nos ha respondido.
El segundo punto: pedir que se haga pública la aprobación, tras el atento examen teológico, que ha hecho la Doctrina de la Fe sobre todos los "mamotretos", y también la aprobación de la liturgia del Camino.
On 13 November, the Pope received Carmen, Father Mario and me in private audience; It was a fantastic audience. We talk about four points:
The first point: China. I explained to the Pope that we have felt from God to raise 20,000 priests for China. Now I tell you what He has responded.
The second point: ask to be made public the approval, after a careful theological examination, which the Doctrine of the Faith has made about all the "mamotretes" and also the approval of the liturgy of the Way.
Tercer punto: dice el Papa: ¡hablemos ahora de Japón! Y dice: "Hemos pensado encontrarnos aquí, en la Santa Sede, con algunos Obispos de Japón para hablar sobre el Camino Neocatecumenal. O sea, el Papa en persona baja a la arena con nosotros. (Aplausos). El domingo 12 de diciembre, es Nuestra Señora de Guadalupe. El lunes 13 de diciembre, día de Santa Lucía, se realizará este encuentro de Mons. Ikenaga y algunos obispos de Japón con el Papa. Por eso queremos que nos ayudéis rezando el rosario cada día y leyendo esta oración que os daré a cada uno de vosotros. (Los seminaristas distribuís ahora las estampitas rápidamente).
Third point: the Pope says: now let's talk about Japan! He says: "We have thought meeting here at the Holy See, with some Bishops of Japan to discuss the Neocatechumenal Way. It is, the Pope goes down to arena with us in person (Applause) On Sunday December 12,... is Our Lady of Guadalupe. On Monday 13 December, day of Santa Lucia, this meeting of Mons. Ikenaga and some bishops of Japan with the Pope will take place. So we want to strive together praying the rosary every day and reading this prayer I will give one for each of you (seminarians now distribute the stamps quickly).
¿Habéis visto la imagen? ¿Habéis visto lo que dice la oración al final? Esta oración la podéis hacer antes y después de rezar el rosario por ese encuentro del día 13. Pedid a la Virgen María que ayude al Papa en ese encuentro con los obispos japoneses. ¡No es obligatorio! El que no quiera hacerlo que no lo haga; el que lo haga recibirá el ciento por uno: será una gracia para Japón, hará un servicio al Papa y recibirá él mismo una gracia.
Have you seen the picture? Have you seen what the sentence says at the end? This prayer can be done before and after praying the rosary for that meeting on the 13th. Pray to the Virgin Mary to help the Pope in the meeting with the Japanese bishops. It's not mandatory! Whoever does not want to do, then do not; those who do it will receive the hundredfold; it will be a grace for Japan, it will service the Pope and He will receive a grace himself.
Ahora quiero daros una buena noticia. El Pontificio Consejo para los Laicos ha recibido una carta de la Congregación para la Doctrina de la Fe en la que dice que, después de haber estado estudiándolos, aprueban todas nuestras catequesis, todos los mamotretos. Son 13 volúmenes, casi 3100 páginas. Durante cinco años, han sido estudiados y examinados por una comisión de expertos presidida por el Cardenal Bertone. Por nuestra parte estaban Ezequiel y Javier. Han revisado palabra por palabra todas las catequesis de Kiko y Carmen, del Camino. Y dice la carta que estos volúmenes deben ser llamados "Directorio Catequético del Camino Neocatecumenal". (Aplausos). No son meras "Orientaciones", sino "Directorio".
Now I want to give you a good new. The Pontifical Council for the Laity has received a letter from the Congregation for the Doctrine of the Faith in which it says that, after having been studying, they approve all our catechesis, all mamotretes. There are 13 volumes, almost 3100 pages. For five years, mamotretes have been studied and examined by a committee of experts chaired by Cardinal Bertone. For our part were Ezekiel and Javier. They have reviewed word by word all catechesis of Kiko and Carmen, of the Way. And the letter says that these volumes should be called "Catechetical Directory of the Neocatechumenal Way". (Applause). They are not mere "Guidelines" but "Directory".
En el primer borrador del Estatuto del Camino "ad experimentum", los 13 volúmenes de las catequesis fueron llamados "Directorio Catequético del Camino Neocatecumenal", como la Santa Sede nos había indicado. En el Estatuto aprobado definitivamente, a petición de la misma Santa Sede, los 13 volúmenes de las catequesis fueron llamados simplemente "Orientaciones a los equipos de catequistas", como quitándole importancia. Es estupendo que ahora la Santa Sede diga que debemos llamarlos nuevamente "Directorio Catequético del Camino Neocatecumenal".
In the first draft of the Statute of the Way "ad experimentum" the 13 volumes of the catechesis were called "Catechetical Directory of the Neocatechumenal Way," as the Holy See had indicated us. The Statute finally adopted, by at the request of the Holy See as well, the 13 volumes of the catechesis were simply called "Orientations to the teams of catechists" as dismissively. It's great that the Holy See now says again that we have to call them "Catechetical Directory of the Neocatechumenal Way."
Ahora debemos introducir en el Estatuto la palabra "Directorio". Nuestras catequesis tienen la aprobación del Dicasterio competente de la Curia romana; ésta es una grandísima noticia. El Papa nos da este instrumento de evangelización para los alejados, para el mundo, para la Nueva Evangelización. ¡Esto nos ha consolado! La Santa Sede no sólo reconoce la bondad de las catequesis que vosotros habéis recibido, sino que pasan a formar parte de la riqueza de la Iglesia, teológica y catequéticamente.
Now we have to introduce into the Statute the word "Directory". Our catechesis have the approval of the competent department of the Roman Curia; this is a huge new. Pope gives us this instrument of evangelization for remote, for the world, for the New Evangelization. This has comforted us! The Holy See not only recognizes the goodness of catechesis which you have received, but they become part of the wealth of the Church, theological and catechesically (?).
Esto es un apoyo enorme que hace el Papa al Camino. Yo muchas veces cuando leo la convivencia de la Retraditio, por ejemplo, veo que es fantástica, digo: ¡cuánta teología sabía mi ángel de la guarda…! Porque ¿dónde he aprendido yo toda esa teología? Veo las catequesis del Padre Nuestro y me quedo boquiabierto; ha sido mi ángel de la guarda el que las ha hecho. Dicen que nuestro ángel de la guarda tiene nuestro mismo aspecto. Cuando sale San Pedro de la cárcel, dicen: ¡está Pedro en la puerta! Y otros dicen: "será su ángel".
This is a huge support wich makes the Pope with the Way. Often when I read (the mamotrete of) the convivence of Retraditio, for example, I see that is fantastic, I say, how much theology knew my guardian angel ...! Because where I have learned all this theology? I see the catechesis of the (stage of) Our Father and I gaped; It has been my guardian angel who has made them. It is said our guardian angel has our same aspect. When San Peter leaves prison, they say: Peter is at the door! And others say: "It is his angel."