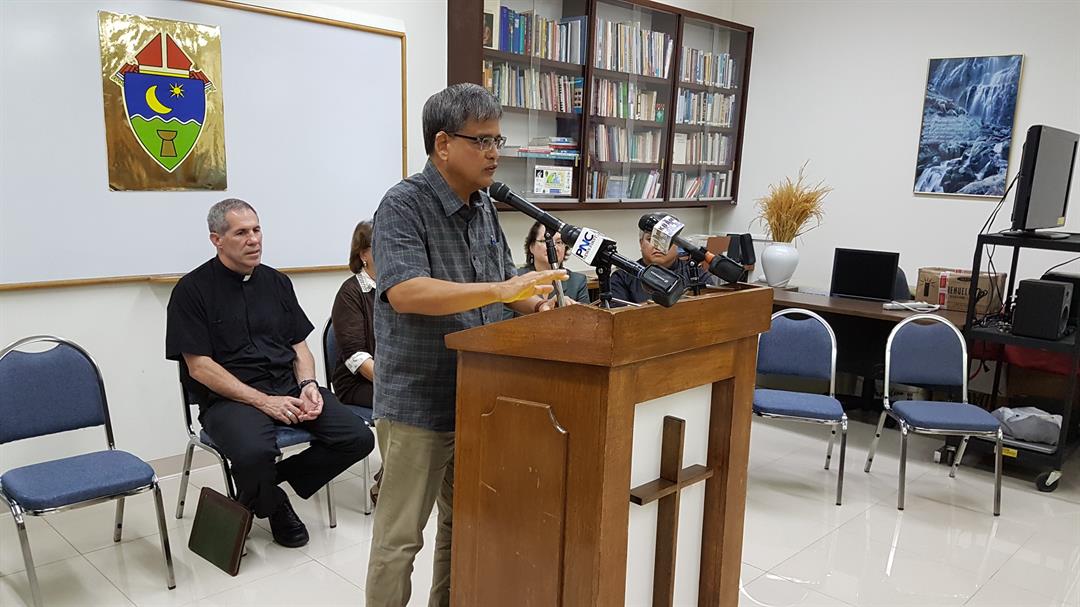 Posted by Tim
Perhaps because we have been so conditioned to immediately distrust anything coming from the chancery, and rightly so, there were many misperceptions about the "settlement fund" unveiled at
yesterday's press conference
.
The first thing to understand is that the presenter, Richard Untalan, and current president of the Archdiocesan Finance Council (AFC) was one of the four members of the AFC "fired" by Apuron in 2012, after he secretly recorded the instrument which gave away the Yona property. Additionally, Untalan and the others were belittled and threatened by then Vicar General, David (Lurch) Quitugua, who accused them of a "vulnus" against the bishop, for even proposing to discuss the matter at an AFC meeting.
The fact that Untalan is back at the helm of the AFC along with another formerly "fired" member, Joseph Rivera, plus the presence of Art Ilagan (It was Rivera and Ilagan who publicly stood up for Msgr. James in front of the Cathedral on August 8, 2014), should say something about the fact that we are not dealing with the "same ol' same ol'." But then perhaps most viewers were not aware who these men are let alone the roles they played in the past.
Also, while not taking any direct credit for the plan presented, behind the scenes I had, several months ago, urged the creation of such a fund as part of a larger plan to begin to restore credibility in our religious leadership. Prior to this those religious leaders were failing miserably to "reach out" to victims by doing little more than offering a phone number that sounded like 477-RAPE-ME-AGAIN, and the establishment of a commission led by someone who (many knew) was part of the problem.
The bottom line message I wanted to get across to the chancery was that it did not matter what they did, so long as it was they who did it, it would mean nothing given the absolute mess Apuron left us and Hon (initially) had aggravated and Byrnes had thus far bumbled.
The good news about the fund is that it is NOT the archdiocese who will administer it. This is what so many missed and still miss. To clarify, I will copy the comments I made on the KUAM live feed during the conference.
News Links