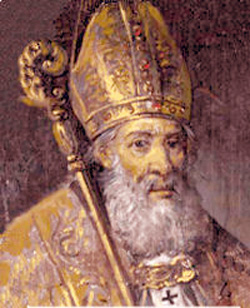 Today is the feast of Saint Eusebius of Vercelli, Bishop. The note in the Breviary says that "
he worked tirelessly against the Arians for the restoration of the faith
." His
Catholic.org
bio notes that Arianism is a "
heresy which never died out
."
Indeed, it has not, in fact, it is probably more powerful than ever, just more subtle than in the time of Eusebius (4th century) when more than half the world's bishops embraced it.
The most visible descendants of Arius (a priest who taught the heresy) are the Witnesses of Jehovah, Iglesia ni Cristo, and the Church of Jesus Christ of Latter Days Saints (Mormons).
All of the above religions are amongst the fastest growing religions in the world, and all three teach that Jesus is not God, or more precisely, that he is not equal to, or as our Creed states it: "consubstantial with the Father."
Thus, not only is Arianism a heresy which never died out, it is growing by leaps and bounds. A particular virulent strain of Arianism is found in the Neocatechumenal Way. It is "particularly virulent" because of a combination of its founders' skillful facility in making it ape Catholicism and the artful and relentless power brokers who fashioned it into "an itinerary of faith formation," a perfect Trojan horse.
Some of the world's bishops have spoken up, most notably
Socrates Villegas
in the Philippines and Athanasius Schneider, who
called
the NCW a "
Protestant-Jewish community inside the Church with a Catholic decoration only,
" and more specifically: "
It is a Trojan horse in the Church. I know them very well because I was an episcopal delegate for them for several years in Kazakhstan in Karaganda.
"
The Kikos have done well to mask the very thing that would reveal the truth about its theology: the teaching that Jesus is not God, that like the Jehovah's, Iglesia's, and Mormons, Jesus is simply descended from God, albeit the "firstborn."
But once in awhile, their real teaching slips out as it did when Fr. Angelo Veraldi, a neocat,
instructed
our permanent diaconate candidates that Jesus "was a sinner." In
KIKO'S TROUBLE WITH THE TRINITY
, Chuck White gives "eight exhibits" of Kiko Arguello's subtle undermining of the central tenet of our faith: JESUS CHRIST IS GOD.
But why don't more bishops speak up?
Today the Eusebius of Vercelli's are few and far between. As we are becoming increasingly aware, a great amount of the world's bishops, for decades, have been seriously compromised, and on many levels, making them easy targets for the persistent, whispering apostles of Kiko Arguello who promise money, power, security, and most of all, vocations, which are critical for episcopal prestige and clerical advancement.
That means that it's up to us. If we have learned anything over these last four years, we have learned:
"Who is going to save our Church? Not our bishops, not our priests and religious. It is up to you, the people. You have the minds, the eyes, the ears to save the Church. Your mission is to see that your priests act like priests, your bishops, like bishops, and your religious act like religious." - Archbishop Fulton J. Sheen, 1972
Saint Eusebius of Vercelli, pray for us.